Anyone wanting to get the most out of their rifle needs to have the right muzzle device. There are a lot of options to choose from, but which one is right for you?
Muzzle devices have four main performance factors they contribute to:
Recoil Reduction
Flash Suppression
Muzzle Stability
Suppressor Compatibility
The first thing you should do is determine what your priorities are. To help you with that, we recommend answering these questions:
Will your rifle be used for defensive purposes?
Is your rifle primarily used for competition?
How would you describe your rifle's recoil?
Will the rifle ever be used indoors or in low light conditions?
Will a suppressor be used?
FLASH HIDERS
When using a rifle for defensive or tactical purposes, muzzle flash can be a problem. The flash can be blinding to a shooter in low light conditions, causing you to lose your target. It also can give away your position to your target. Flash hiders have little to no negative impact on performance and are surprisingly inexpensive.
Flash hiders are especially useful when using a short-barreled carbine. This is because the muzzle flash is much greater with a shorter barrel.
Lastly, make sure these are legal in your state. Certain states prohibit the use of flash hiders.
Recommendation: A2 'Birdcage' Flash Hider
A very simple, but effective option and often used by military groups due to their effectiveness at reducing muzzle flash.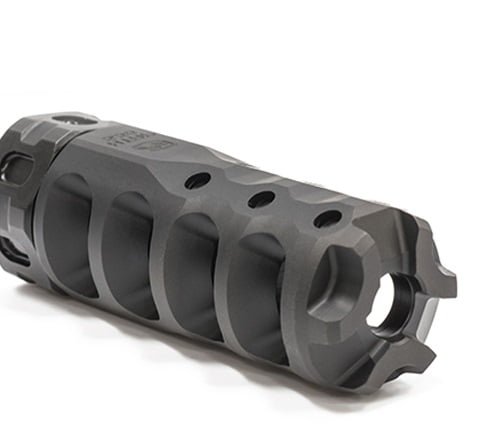 MUZZLE BRAKES
If you're looking to reduce the amount of kick you receive from your rifle, a Muzzle Brake is a good option. These reduce the amount of force felt by redirecting the gas as it leaves the barrel. These are most commonly used with higher power rifles or magnum-caliber rifles. The recoil reduction you get with a Muzzle Brake comes with one major downside.
Due to the way Muzzle Brakes redirect the gases outward, there is a shockwave effect that is created around the shooter. Generally, the more effective Muzzle Brakes create a more aggressive shock due to the amount of gas that is redirected. This shockwave effect is very noticeable to anyone around the shooter such as at a shooting range.
Recommendation: Precision Armament Hypertap
Boasting one of the highest recoil reductions on the market (over 80%), this Muzzle Brake can make a very noticeable difference in the accuracy of your shots.
COMPENSATORS
Compensators and Muzzle Brakes are very similar in how they function but exhibit one major difference. Instead of a focus on reducing recoil, the Compensator reduces muzzle rise. This helps target acquisition when making rapid shots. Therefore, the Compensator is commonly seen in competition shooting.
Like the Muzzle Brake, Compensators cause the same shockwave effect. In close quarters, this can even feel painful, so consider what your surroundings will be when using these.
Recommendation: Spike's Tactical Dynacomp
SUPPRESSOR COMPATIBILITY
Depending on the type of suppressor used, you may not have to be concerned with whether your muzzle device is compatible. Some suppressors are directly threaded onto the barrel and replace the muzzle device, while others will attach to the muzzle device.
Common manufacturers make suppressors that fit to your muzzle device and lock in place to allow quick interchanging. However, not all of these are compatible with each other so it's best to stick to one type. This means sticking to the same brand of muzzle devices to avoid replacing them down the road for compatibility.
FINAL THOUGHTS
Muzzle devices are a very important addition to any rifle due to the increased performance one can obtain. Whether it's major recoil reduction, protection from that blinding flash or optimizing your rapid-fire, there's a muzzle device that can help. Just make sure you choose the one that's right for your particular use case.